Oriel College Sports
We love the Oriel
Whilst well renowned for being a rowing college, Oriel is a dominant force in many other university wide sports. Below you will find links to a number of the different sports teams and squads that make up part of the sporting life at Oriel.
If your team is not featured here, please let the JCR Secretary (Jennifer Potter) know, and you can be added.
Despite being a small college, Oriel always manages to contribute its fair share of athletes to OUAC, and this year (2014) we managed to come second in Cuppers and contribute 4 members of the Oxford team that won Varsity 2014. There are no college athletics teams, except twice a year for Cuppers, and all training is done through OUAC, but you certainly don't have to be at Blues standard in order to train.
Training is a great way to keep fit and prepare yourself for what will hopefully be an Oriel victory in both Michaelmas and Trinity Cuppers next year, so if you're interested in training but need convincing, then contact David Kelly (david.kelly)
Oriel Badminton have a 2-hour practice session every week during term, and we always enter at least one team in the league and Cuppers. In previous years when turnout's been high, we've also sometimes entered a mixed team as well as a Women's Cuppers team. Teams for matches consist of four people, but we can have as many people as we like during training. Any questions email (matthias.castaing)
Oriel's basketball team is open to anyone and all abilities. Training will be once a week with casual matches once a week and the college cuppers competition in Hilary. Please contact Andrew for further info (andrew.ledigo)
When Trinity comes and the days grow longer, there's no better way to spend a sunny afternoon than on the cricket pitch, with your mates, tearing into the opposition with bat, ball and chat.  Following our narrow escape from relegation, this year we hope to cling to our prestigious place in Division 3 once again. Naturally, having a laugh and enjoying some friendly cricket will always be the most important aspects of Oriel Cricket Club.
Players of all abilities are welcome and it must be said that some of Oriel's finest players hadn't even picked up a bat or ball before university.  Depending on our performance in the knock-out 'Cuppers' competition (and weather), there should be at least six games over the course of Trinity term, but there's no commitment to playing in any more than you want to.  If you fancy being on the mailing list, then feel free to drop me an email at aidan.chivers@oriel.ox.ac.uk
And just remember:
There once was a ball and a bat,
But to Oriel there's far more than that.
On a fine summer's day,
With some excellent play,
The important thing's really the chat.
Captain: Aidan Chivers
VC and social sec: Eddie Shields
In Trinity Term 3rd Quad turns into croquet central, its mental.
There's a croquet set available for general use in the Doll's House so you can get your practice / Pimms on.
There are two competitions to be aware of:
Cuppers which is the biggest croquet tournament in the world by participation. Over 400 teams entered last year so we expect to put out about 20-30 teams of 4 people each.
Also being such a croquet powerhouse, Oriel has its own intra-college pairs tournament: the Stokes Shield which taken even less seriously than Cuppers.
Everyone is encouraged to get involved in both, no matter of how little experience / knowledge of the rules you have. Obviously most people come to Oriel with no idea of how to play but there are usually people lurking in the sunshine willing to give a few pointers. However for anyone who's curious:https://www.croquet.org.uk/association/
(dale.line)/(calum.arnold)
Football at Oriel seems to have periods of college dominance; enviable records in the '70s and '90s prove that we have the capability of being a footballing powerhouse. But much like Aston Villa, Leeds, Nottingham Forest and Liverpool, the last number of years, unfortunately, have not been so kind – despite baskets of potential, we have had few results to show for it. However, with the right commitment and attitude, I have very little doubt that we'll be pushing for promotion this year, with hopefully a solid Cuppers run to boot. If Wales and Leicester can do it, so can we.
We'll train once a week, with matches also being played once a week and as many football socials as possible. We play in Division 3 in the JCR Leagues – it's a decent standard and a competitive league, but also enjoyable for all. Everyone is welcome to come along and play, all that's required is an undying love for the Oriel. If you're interested, give me a shout (eoin.monaghan).
The girls' team joins up with Christ Church, so any girls interested in playing can speak to Amrita Mojumdar (amrita.mojumdar – also at Oriel).
If Oriel's hallowed turf at Barty isn't enough for you, anyone interested in playing uni level football can email Isaac Virchis (isaac.virchis) for more info.
Eoin
OCFC Captain 2016-17
Our college is lucky enough to have its own gym. Should you wish to use the gym, you must fill in a Oriel College Gym Code of Conduct form, and have your fob activated at the Porters Lodge.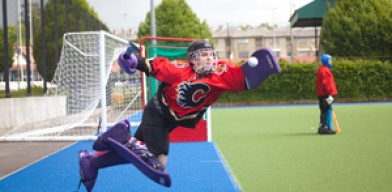 Oriel currently has one hockey team that competes throughout the year. During Michaelmas and Hilary terms we play in the Sunday leagues against other colleges and we are currently in Division 1. In the Summer we compete in "mixed cuppers" and have previously made the semi-finasl. In terms of who plays, anyone of any ability or gender is warmly welcomed into the hockey set up at Oriel. Unlike other colleges, we do not have a women's team, but field a team of both genders in the men's league (and have been very successful!) We have players currently who have never picked up a stick before, as well as those who play for the university teams. The captain this coming year is Annabel Hazlitt, the first time a girl has captained the team, and the vice-captain will be Charlie Wells. Please do get in touch if you wish to get involved!
(annabel.hazlitt)/(charles.wells)
Oriel's mixed lacrosse team is open to everyone in college- no previous experience required! We have fun, casual matches against other colleges on most Sundays in teams of at least 11 people. Non-compulsory practices can be organised for anyone who wishes to spend more time improving their stick skills and game tactics.
In Trinity we also enjoy competing in the yearly intercollegiate cuppers tournament.
To be added to the mailing list or for more information, please feel free to contact sophie.stiewe.
Oriel currently has two netball teams – an A team and a B team and both are amazing and in league 1 (the best woo!) and league 2 respectively, out of 5 divisions in total.  xoxo
Intercollegiate netball is a fun and sociable activity which is as competitive as you make it. We're always keen to welcome players of all abilities.

We're really fun and always have a better time than the other team even if we lose!
Feel free to email me eve.rothwell

Love from Evie xo
(Captain 2016-17)
The mixed rounders team is, without a doubt, one of the most popular sports at Oriel.
With the laid-back (yet incredibly competitive) atmosphere during our weekly matches, many team socials, infamous crew-dates, and of course the stash, it's easy to see why.  We've been unbeaten for several years now, and thus consider ourselves top of the Colleges Rounders League (if such a thing were to exist).
Get involved if you want to be part of Oriel's most successful sports team!
(Rounders ability optional)
(alec.trigger)/(jessica.collins)
Oriel College Boat Club (OCBC) is the most successful college boat club in Oxford. It is a large part of college life, with more than 80 members of the college competing in our two main events in 2017, Torpids in 7th week of Hilary and Summer Eights in 5th week of Trinity. Our mission purpose is to secure both Head of the River positions for the men's and women's sides in these aforementioned events. Beyond these intercollegiate 'bumps' races, OCBC also provides its members with many opportunities to race at external regattas against crews from all over the country.
We cater for all levels of ability from novices, to experienced rowers and coxes trialling for the University squad. Oriel is often well represented within the University crews, with the 2012/13 Women's Oxford President, who learned to row at Oriel, the 2013/14 Men's Oxford President & the 2015/16 Men's Lightweight President hailing from the college, and also a strong presence in the Boat Races of 2015 and 2016.
There is also a huge social aspect that comes with being part of the boat club, whether it be crewdates, drinks or boat club dinners. New members are always welcome regardless of experience, and if you are interested in joining or finding out more please contact one of this year's captains, Edward Carroll (edward.carroll@) – Women's Captain of Boats, or Henry Shalders (henry.shalders@) – Men's Captain of Boats, or visit our website for more information.
An additional note on Men's Rowing from Henry Shalders, Men's Captain of Boats for Oriel: The Oriel Boat Club is the most successful Oxford college rowing club and we have held the Head of the River position since 2014. Outside of rowing I have been editor of the Cherwell, Oxford's student newspaper, editor of the University freshers guide and run a club nights business to raise money for WaterAid. Contact me at mens-captain@orielrowing.org to get involved with Oriel's most successful club.
Oriel has a proud rugby tradition having reached the Cuppers Final (the inter-collegiate competition) a few years ago. Due to a change of format in the divisions we are now the strongest team in our league and hope to gain double promotion this year. The squad has a depth of experience with 4 senior players trialling to play University level rugby. Despite this, we're keen to attract players of all abilities, whether you've played for county, school, or never touched a rugby ball – every year we have players join that have never played before! This season promises a fly new kit, mountains of stash and an agreement with MaxiMuscle for free products and a discount account. We're a relaxed and sociable squad with training at least once a week and matches on a Saturday morning at our sports fields: 'Barty'.
On the social side, the rugby team puts on the most events of any sports team in Oriel. These events happen throughout the year and include team drinks, crewdates, pub-crawls, BBQs, and TOUR. These events are a great way to meet people within college and the wider university. They are enjoyable, social and memorable. We are also in the process of arranging a social/match with our sister college in Cambridge.
If you're thinking of playing rugby this year (even if it's for the first time) feel free to drop me an email at matthew.williams@oriel.ox.ac.uk
I look forward to meeting you this year!
There are 3 men's teams and 1 ladies' team entered in the college squash league this year. We play matches once a week against other colleges, and also enter into Cuppers, which is a knock-out tournament.
If you're just out for a fun informal game, there is an internal Oriel league.
All abilities welcome. Click here to book the college squash courts at the Rectory Road Annexe.
(mark.gowers)
Welcome to Oriel Tennis!
College league and cuppers both take place in Trinity term. Get in touch with robert.bastian@oriel or join the Facebook Group
For fans of throwing and catching, for those looking for a complementary sport for Sunday afternoon recreation, the sport for you is Ultimate Frisbee. The high-intensity self-refereed game is easily accessible and has a great university wide social scene. An endearing simple game has all the panache and opportunity for the "big plays" as the best of them, it's worth playing if only for the nail biting moments when it is not yet clear whether man will win the footrace with the ever dipping disc. Basically a cross between American Football and Netball but with a frisbee, you can find out more how to play on the (soon to be) revamped OW! website. Even if you don't know how to play then still come along anyway.
There's a usually a beginner's tournament in Michaelmas, a spring league throughout Hilary and then cuppers happens in the first few weeks of Trinity. We will train on Sunday afternoons, probably at University Parks.
A brand new team for Oriel, whilst currently only a team of one, that also means that the legacy starts here and who doesn't want to be part of THE legacy. To get involved email me @ matthew.pickering and I'll hook you up with all the frisbee frolics.
Oriel is a ski racing powerhouse: we've won the team cuppers parallel slalom for three years in a row, and would like to make it four on this year's Varsity Trip. If you're a confident skier (no racing experience needed), get in touch with robert.bastian@oriel.ox.ac.uk, and keep up to date with VT preparation on Facebook
Touch Rugby is a mixed-gender, non-contact form of rugby. It is a fast-growing sport in the UK, and last year Oxford put together its first Uni mixed touch rugby team. Oriel had strong representation on this team and we hope to continue to see great interest in the sport in the college.
There will be several inter-college touch rugby events throughout the year, including a planned Cuppers event in Michaelmas. People of all abilities are encouraged to give it a try as it's very casual and we've always been able to rely on our strength in numbers. Don't let the opportunity to play pass you by. We hope to convert a few people who think they're a bit out of touch with sport.
For more information or to get involved contact David Kelly (david.kelly@oriel.ox.ac.uk)